Cleanse Shower Head
---
Purify chlorine and other harmful substance from your shower water. For a healthier, smoother, better skin and hair.
Buy 1 Get 2nd at 50% off. Add 2 Cleanse Shower Head to cart, discount automatically applies.
We developed the best in class combination of High-performance polypropylene profilters (PP) and Calcium Sulfite which:

— Effectively remove harmful particles and chlorine from water

— Does not clog or reduce water pressure
1 Cleanse Filtered Showerhead

1 Cleanse Replacement Filter (it's already in the Showerhead)

1 Refresh Aroma Essence (in ShowerHead)
Universal fit: fits all MY showers
Strong pressure: designed to consistent pressure
Durable & sturdy material
Innovative On/Off Switch
100%
Satisfaction Guarantee
You could shower in Cleanse for the next month and then return it and you'll get your full money back. Though we are absolute confident you'll never go back to normal showers.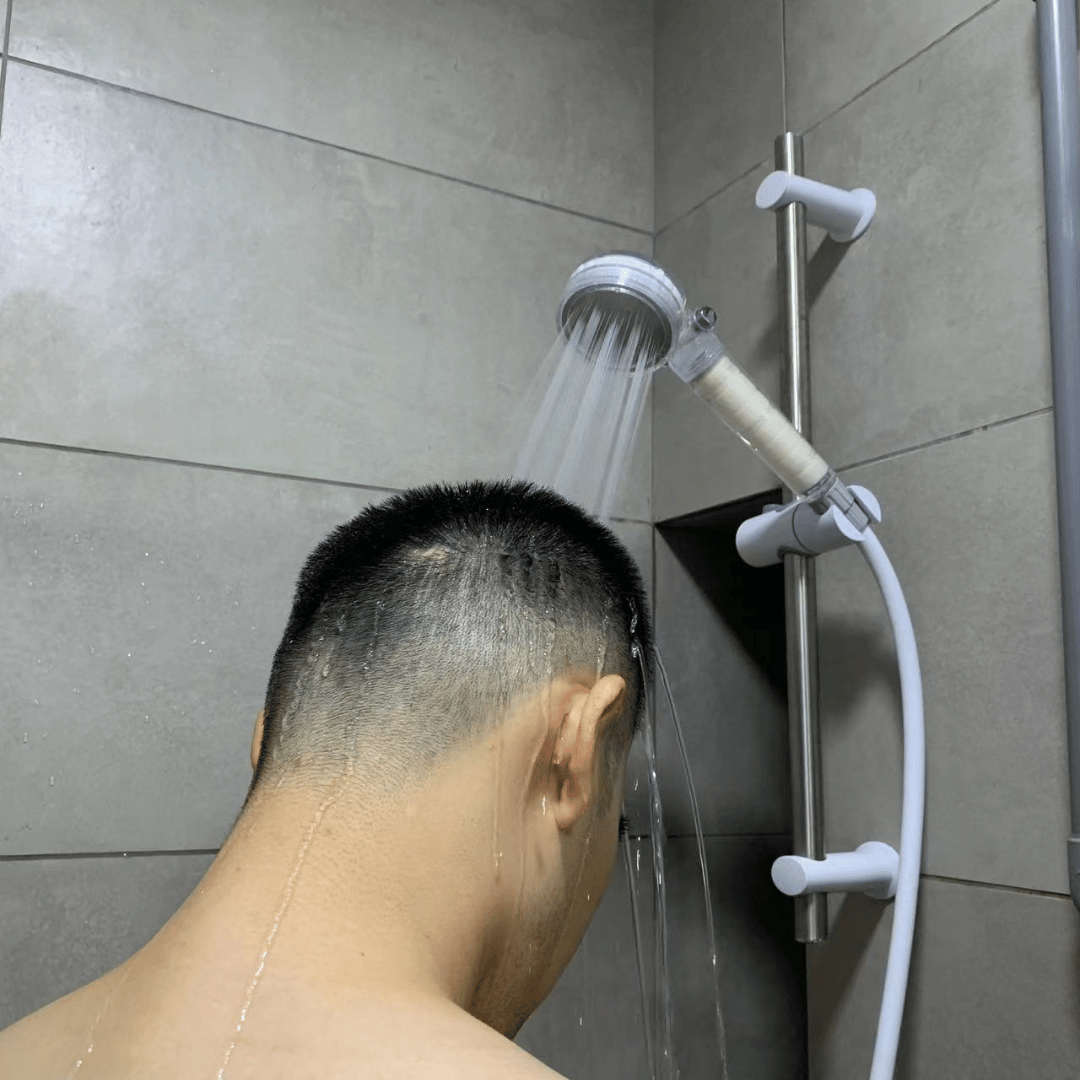 Why Should I Filter My Shower Water?
Our water supply is treated with Chlorine to eliminate germs and bacteria, but it is doesn't make sense for us to shower with it. Chlorine water along with other contaminants:
❌ Remove the natural oil in our body and hair, leaving them damaged, dry, and irritated
❌ Breaks down the amino acids in our hair, depleting the hair's natural strength
❌ Irritates our skin, leading to eczema, itchiness, hives & rashes
❌ Dissolves hair lipids, leaving hair looking less shiny, less strong, and causing split ends
❌ Reacts with the natural melanin in our hair, changing the color of your hair
❌ Speeds up the loss of collagen as heavy metals cause free radicals to form
FAQs
Our shower head is made with the best in class filters and aroma essence so you can give your skin and hair the best treatment of clean, filtered shower water.
How's the water pressure?

The Cleanse Shower Head should increase your water pressure by forcing the water into the microdots, giving you more pressure with less water.
It is designed to fit all standard Malaysian Showers (Shower with hose). If it doesn't fit, we will pay for return and pick it up from you.
Is it hard to install The Cleanse Shower Head?

Not at all. If you know how to unscrew a bottle cap, this one should be easy-peazy for you. It only takes 10 seconds and no tools required.
This product has no reviews yet.